28. Embryo Adoption Journey
" God bless my wife, then came the hard part. The embryos arrived at the clinic and our doctor began the workup with injections and tests. It was a whirlwind of emotions but with guidance from our doctor, all went as planned. A few short weeks later we were ready for our transfer."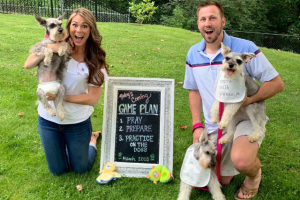 September 2016, day one of our honeymoon. My wife and I decide to drive the Maui coast, along the Road to Hana. A multi-hour journey, hair pinned turns, and a day of reflection as we start our new lives and journey together. On the radio plays our theme song Starship's "Nothing's Gonna Stop Us Now." A tour guide app assists us, speaking about life, purpose, and the idea that the Road to Hana is more about the journey than the destination.
Our journey and new chapter of our life began that week. For most, life is planned and in sequential order and my wife has always planned to be a mother. On this trip, we had hopes of continuing our journey of life and starting our family…
The honeymoon ended, months went by, and quickly we came to learn that starting a family is harder than we had originally thought. Patience – that's what my wife kept telling me. As time went on, our patience grew to frustration but we kept quiet; wondering, broken, and numb.
Stepping through the door to the fertility center we thought, "This won't be so bad. We will run some tests, find out the problem, and be on our way." A couple of tests later, we were indeed on our way and heading back to Maui a second time for a family vacation.
This time though, the honeymoon was over. On our first day, we got the alarming call from the
doctor's office. Sure enough, the test results had come back and we were devastated. Our likelihood of having children on our own was very low. We had so many questions, emotions, and thoughts, all overbearing. Our world crumbled around us as we saw so many of our dreams never becoming a reality.
Soon we began undergoing fertility treatments to conceive, but after two failed attempts, we were left heartbroken and with a deep sadness. We had many days of grieving but our desire to have a family was still very strong so we began looking into adoption. Through this journey, we found Snowflakes Embryo Adoption. With a little bit of research, we knew this was a perfect fit. We felt that these embryos' lives were our path to becoming parents. We met with several adoption agencies and without hesitation, we knew that Nightlight/Snowflakes was the right choice for us.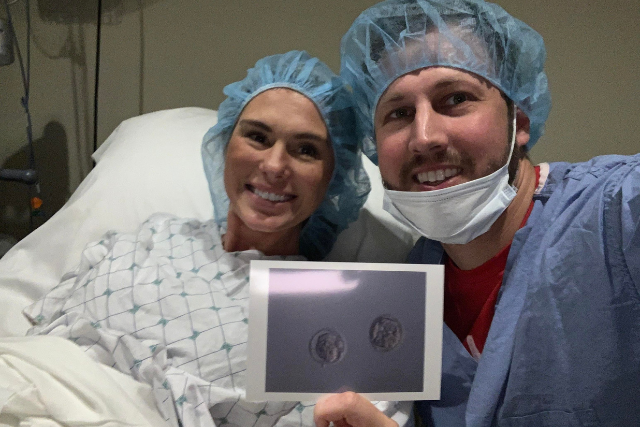 Days later, as my wife and I tried to come to a decision. We wondered "What is our true purpose, do we ever really know?" and " Are we not meant to be parents?" To take our mind off things we decided to see a movie. A movie about foster adoption called Instant Family was playing. It was great and very heartwarming. I will not spoil the plot but at the end, a character hits the radio and on comes a song. Not just any song, but our song, the one Ashley and I play over and over: "Nothing's Gonna Stop Us Now." We looked at each other, the perfect moment, both of us wiping away the tears. This was us. NOTHING'S GONNA STOP US NOW.
That week, we signed the Snowflakes Embryo Adoption contract. Both of us working quickly, we completed all necessary requirements of the adoption process and entered the matching phase. At this point, we were 3 months in and were informed it would take months to be matched. But God had another plan. Six days, yes, SIX DAYS later we were matched. "Is this real?" we thought. We were both ecstatic. The portfolio came through and felt the match was perfect.
The placing family that chose us were truly wonderful and have become an extended family to us. An instant family, just like the movie that helped guide us down this path and we couldn't be more thankful. We agreed to have an open adoption and developed a bond with them that is truly indescribable.
God bless my wife, then came the hard part. The embryos arrived at the clinic and our doctor began the workup with injections and tests. It was a whirlwind of emotions but with guidance from our doctor, all went as planned. A few short weeks later we were
ready for our transfer.
Our transfer went perfectly! A day surrounded by love, God's blessings, and even a little bit of humor. And, of course, our song played throughout. Afterwards we anxiously counted down each long day. After the first test we received the phone call, one we once thought we'd never receive, telling us "Congratulations, you are pregnant!" Ashley had them repeat it multiple times because those words were music to our ears. I started crying as I looked at her. "We did it! YOU did it!" jumping up and down in celebration. But we understood we were at the bottom of the mountain looking up, we knew we still had a long journey. We still took a moment to celebrate.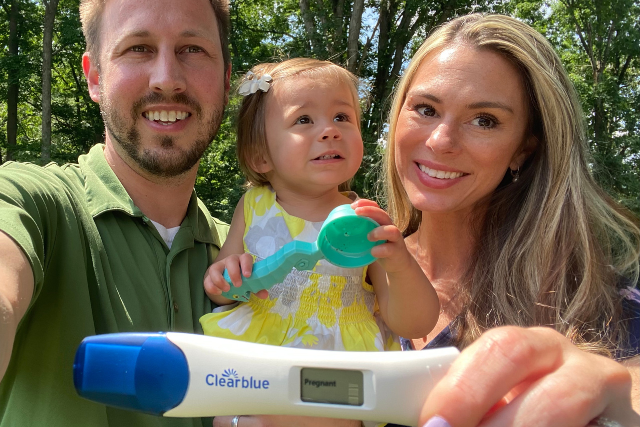 We welcomed our daughter Kayley in March 2020. Around Kayley's first birthday we made the decision to start planning a sibling for her and we had five remaining embryos. Our second transfer was very similar to our first. We transferred two embryos. This transfer resulted in one blighted ovum and one healthy growing baby.
Now, along our own "Road to Hana" I am happy to report that we welcomed our second Snowflake baby, Kathryn, in February 2022. (A full biological sibling to our daughter Kayley). Our daughters are the most incredible aspect of our lives and our bond with them is indescribable. They were always meant to be our daughters and we were always meant to be their parents. Embryo Adoption is the source of our greatest joy and hope. It has given us the opportunity to grow our family in the most beautiful way.Nothing's Gonna Stop Us Now.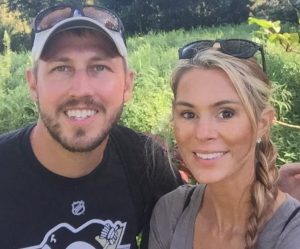 Ashley and Justin live in Pittsburgh, PA with their two daughters and two miniature schnauzers. Justin is a pharmacy manager and oversees multiple locations throughout the country. Ashley works to oversee educational facilities to ensure program quality. She is also a certified instructor and awards grant funding to programs. Both Ashley and Justin love living an adventurous life. Their hobbies include bike rides, walking their pups, spending time with family, neighbors and friends, and traveling. And of course, living in a true sports town, they love to cheer on all Pittsburgh Sport Teams. Both Ashley and Justin are very passionate about embryo adoption and hope to help bring awareness to this incredible family building option.