73. Birth Doula – Film Doula Birthing a film as a doula – Rani Khanna
"Birth is a very intimate human interaction which cannot adhere to any prescribed formula, as each woman is unique and each birthing experience distinctive and special. However, care and respect are fundamentally indispensable in this equation and lay the foundations for the exchange between mother and doula." Informed Pregnancy+ is Dr. Elliot Berlin's brand new multi platform streaming channel dedicated to pregnancy, postpartum and parenting. The Filmmakers Spotlight blog series features creators whose work is showcased on the channel. To learn more or sign up for a yearly or monthly subscription, click here!
Birth Doula – Film Doula: Birthing a film as a doula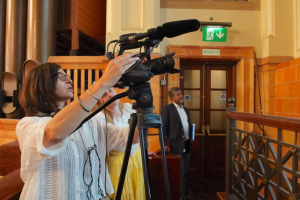 I became a mother in my early twenties before going to film school in 1992 at the University of the Arts, London, where I specialized in producing and directing documentaries. Later on in life, in 2010, I trained to be a birth doula with Michel Odent and Liliana Lemmers. Why? I am not completely sure. It was beyond any logical steps deriving from my filmmaking career. What I do know is that it was unconsciously connected to my own wonderful experiences of giving birth to my two children. There was a deep, hard-to-explain, inner-knowing that I could help support women during their pregnancy and birth.
What has surprised me in my work as a documentary filmmaker and as a doula is finding out how both roles use similar tools, skills and approaches. I've gradually come to recognize how the role of a doula is woven into my documentary filmmaking process, and how making a documentary is akin to giving birth. Upon reflection, this is not so surprising, given that many of the issues I address in my film work are sensitive topics such as: minority rights, human rights, gender/sexuality, health issues, mental health… and my latest film "More Than Blood" which is about the tragic reality of women dying in childbirth from postpartum hemorrhage.
What is specific to documentary filmmaking (as opposed to a scripted film) is the fact that we deal with real individuals and not paid actors, so we first have to establish a relationship based on trust in order for them to be willing to be filmed. This is crucial as without this basic exchange of trust no film is possible. This also goes for the relationship between a birth doula and a pregnant woman. There needs to be an unconditional trust between them as well as honest communication in order for a doula to do her job supporting the mother-to-be and for the mother to allow her in as her doula.
The primary need is to create a welcoming, safe space and to hold that space for the women about to give birth, to see and listen to them deeply. I also tend to do this with the participants in my films – especially when the film is about a delicate or sensitive story. Why else would anyone agree to be filmed as they expose themselves to me, a total stranger, and to vast unknown audiences while revealing their emotions, fears, hopes, struggles? Ultimately, the link is clear. My job as both a documentary filmmaker and a birth doula is to create this trust and safety so they can be themselves; totally at ease, totally relaxed, safe to be vulnerable.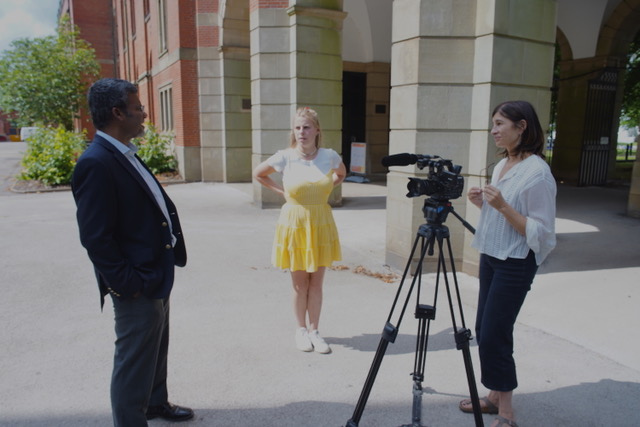 Listening is key to this process: giving them my whole attention and being totally in the present with them, beside them, in body, mind and heart, whether this is for women giving birth or the participants I am interviewing for my films. As a birth doula, I listen to the mother's words and her silence and watch her body. I need to know her needs, her wishes and the worries she might be experiencing in order to best support her.
Birth is a very intimate human interaction which cannot adhere to any prescribed formula, as each woman is unique and each birthing experience distinctive and special. However, care and respect are fundamentally indispensable in this equation and lay the foundations for the exchange between mother and doula. It is always an honor for me to feel trusted and allowed in this most intimate of spaces, where I become a witness to the gift of LIFE, the miracle of life and love, its sacredness, in the same way as when a person allows me to film them opening up emotionally, sharing their personal lives and world. This is a huge precious gift, as without them there would be no film.
Ethical codes, boundaries and conditions are specified, to protect and respect both the expectant women and the participants in a film, through the use of contracts and release forms. However, at the end of the day, for me personally, it is all based on one's humanity and desire to be human and connect. It is a human exchange that cannot be commodified or quantified as such.
A human being becoming vulnerable and sharing intimacies is an act central to any deep human connection. A woman about to give birth is at her most vulnerable and needs to feel protected and secure in the same way a person who has been traumatized needs to feel safe to reveal themselves on camera.
How to make someone feel safe.
I have learnt from experience how it is the feminine energy which is at play in both contexts. It is needed more than the masculine energy, as it is about being receptive to the other's needs and to life itself, being in tune with one's intuition, receiving guidance from one's own intuition, supporting and nurturing a human being without judgment but in full acceptance and respect of her.
Accepting that we are not in control of any outcome, that we need to trust the process after having prepared to give birth or produce a film, and allow for life to guide us and gift us with her miracles and magic. Being pregnant and giving birth often opens up a roller coaster of emotions and sensations, covering a vast spectrum of feelings from euphoria, excitement, fear of the unknown, loneliness, anger, pain, mystery, anticipation, anxiety, doubts, worries, peace, contentment, happiness, frustration, impatience, to joy and exhilaration, the same feelings I experience each time I make a film.
It is important to listen to the body and use one's intuition in order to fully listen and this is where energy work comes in. Five years ago I began studying the chakra energetic system and the natural elements, using them as a way of tuning into myself, to rebalance what was out of balance or out of alignment and to help ground myself.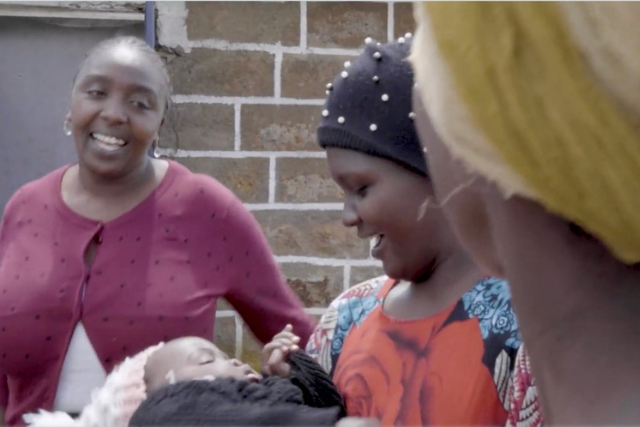 I believe the first exchange we have with any individual is energy based, before words or any dialogue set in.
Working with the chakras and the natural elements can be used to become more aware of one's inner landscape and feelings. With mothers I listen to them, using my intuition to sense and feel their energy, and to support them with their concerns, fears or blockages and prepare them to trust themselves and their bodies. The body is doing all the work naturally in most childbirth cases, however there are exceptions, and it also depends on cultural trends and traditions.
Being in receptive mode is about being in stillness – listening and feeling the "knowing" – the feminine – Allowing for space to be empty so that something new can emerge from it: life and creation.
When making a documentary film, I have to step into the unknown. I have to accept that I am not in total control of everything and that I often have no control whatsoever. I have to trust the process and myself. I need to go deep within myself and self-question: where are my blockages and fears around my own creativity, the situations I find myself in, the relationships I am building, the story I want to tell.
When making a documentary film, I step into the shoes of a mother giving birth to her baby – the film is my baby. The journey is one where I feel vulnerable and elated at the same time. I am eager to deliver my baby (the film) and see it out there in the world just as a mother longs to see and hold her baby in her arms for the first time. Simultaneously, I become a doula for some of the participants in my films. I hold space for them to feel safe to open up to me and trust me, in the same way that I do for my doula Mums. Ultimately, it is trust, love and surrender that are required for birthing a baby and a documentary and in each case it is a true labor of love.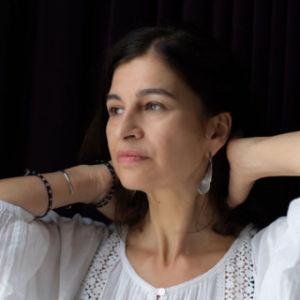 Rani Khanna is a filmmaker, lecturer, birth doula, from a multicultural artistic background, based in London. She makes documentaries for broadcast and the NGO/Charity sector and has a passion for indigenous knowledge/wisdom, healing, energy work and ecofeminism. She runs workshops that merge bodywork/meditation with creativity. Currently she is developing a documentary about a Mamo, Don Daniel, a spiritual leader from the Arhuaco tribe, Sierra Nevada, Colombia, who wants to meet the Pope in Rome. Simultaneously, Rani has helped a Colombian shaman and four indigenous tribes to buy land in the Sierra Nevada to build NIKUMAKUNZAMA: a university to teach indigenous wisdom and healing from ancestral medicinal plants and to bridge western and indigenous knowledge. This is a long-term project requiring funding and volunteers with different sets of skills to help bring it to life. For anyone wishing to find out more and be part of NIKUMAKUNZAMA you can contact Rani online.
www.youandeyefilms.com
www.facebook.com/rani.khanna.90
ranikhanna@mac.com
Head shot by Sarah Stick