6. Preparing for Baby: Body, Breath & Mind
"Yoga is beneficial at every age and stage of life, but can be especially grounding during seasons of change. The practice helps us slow down, listen to our bodies, shift our gaze inwards, and take good care. It generates compassion and connection and can support the release of stuck energy and emotions."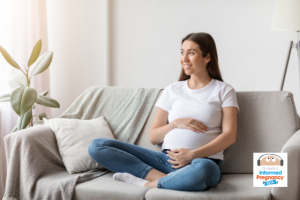 Big Changes
The process of growing and birthing new life into this world can be transformational and deeply meaningful for many folks. The months spent preparing for a baby's arrival are often filled with celebration, family, glowing skin, new products, tiny clothes, and special moments. But while all this is wonderful and tempting to focus on, the reality is that becoming pregnant is a major medical change for a woman, one which involves significant physical, social, mental and emotional transformations. And such changes in one's body, environment, and lifestyle can be the source of stress, anxiety, and the provocation of new or existing mental health conditions.
Unfortunately, one in five women experience increased stress, anxiety, depression, bipolar disorder, or other mental health conditions during the perinatal period, and 75% of women experiencing symptoms go untreated (Maternal Mental Health Leadership Alliance). It's important to note that 40% of Black mothers experience mental health conditions and are twice as likely as white mothers to suffer (MMHLA). Adverse mental wellbeing not only impacts maternal health, but can significantly affect fetal health. Increased anxiety, stress, and depression are linked to neurodevelopmental delays, low birth weight, and even premature birth (Corrigan, L., Moran, P., McGrath, N.). This is why comprehensive and preventive care is extremely important. Expecting mothers need tools, resources, and support to navigate their changing bodies and mental landscape.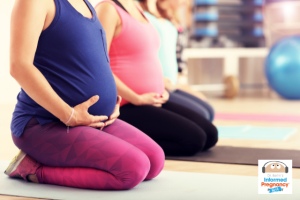 Yoga Can Help
Although I am not certified in prenatal yoga specifically, my years of teaching experience and research have taught me that yoga is a fantastic tool for both physical and mental prenatal support and is safe to do, or try for the first time, during pregnancy. Yoga is beneficial at every age and stage of life, but can be especially grounding during seasons of change. The practice helps us slow down, listen to our bodies, shift our gaze inwards, and take good care. It generates compassion and connection and can support the release of stuck energy and emotions. The physical and mental practice incorporates breathing techniques, somatic movements, and body awareness to generate equilibrium. Many experience the "yoga high" after completing a session, and interestingly, there is science to explain this.
Check out this related episode of The Informed Pregnancy Podcast: https://bit.ly/3Su4w9z
Mind-body exercises like yoga can significantly reduce cortisol levels and quiet one's mind, leaving them more connected to themselves, their body (and baby), and the present moment. Consistent practice reportedly results in improved stress levels, sleep, quality of life, and autonomic nervous system functioning, all of which can help relieve physical pain, emotional turmoil, and support a shorter, less painful labor or birth experience. This can increase the likelihood of a healthy baby and a healthy mom (Corrigan, L., Moran, P., McGrath, N.).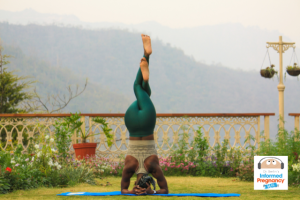 Mental and Emotional Benefits
Many expecting mothers come to me for yoga hoping to prepare their bodies for labor; they're experiencing tight hips, shoulders, low back pain, general fatigue and discomfort, and want to feel they've done all they can do to prepare for childbirth. But what I typically notice during my sessions is that while women are benefiting physically from yoga, they're experiencing the mental and emotional shifts just as much. Planning for a baby can be overwhelming, and beyond that, hormones are fluctuating at an all time high. Expecting moms may feel unusually tender, emotional, and uncentered. Having time to get quiet, slow down, tune in, and connect can offer women an essential reprieve from the list of to do's and what if's running through their minds. Our physical health is closely connected to our mental health; building mental resilience through a practice like yoga can help sustain you during physically challenging moments.
In order to ensure this connection happens, I like to start prenatal yoga sessions with a short meditation. A few minutes to consciously arrive in the practice can help one land in their body. From there, I typically guide clients through a brief breathing exercise. Box-breathing, where you inhale, hold, and exhale for the same amount of time (I usually cue 4 seconds), regulates the autonomic nervous system, creating a sense of calm (healthline). Once connected to their breath, I begin incorporating small movements before getting into the heart of the practice.
Starting pregnancy yoga
For women who have developed a consistent practice prior to becoming pregnant, it's safe to continue (under doctor's guidelines) a mostly regular practice, with a few exceptions. But if you're trying yoga for the first time while pregnant, take it slow and easy. Yin Yoga or a slow-flow style class will give you all the benefits I've described above, without putting too much stress on your body. It's also important to be aware of how you're feeling each day you step onto your mat – if you're slightly dehydrated you may become light headed with a lot of movement, so it's best to stick to seated postures. You'll likely find a range of do's and don'ts when it comes to prenatal yoga. In general, avoid twists in the first trimester and anything that compresses or strains your lower abdomen throughout pregnancy. Take time to find an instructor that you trust and vibe with, and always check in with your body to honor your needs for that day.
Remember, a yoga instructor is just that – a yoga instructor. You know your body best and may even have heightened intuition while pregnant. Give yourself trust and grace, and always check with your healthcare provider before trying new exercise.
For more help with preparing for baby before baby comes, check out The AfterBirth Plan by Dr. Alyssa Berlin, an online course you can take at your own pace: https://informedpregnancy.teachable.com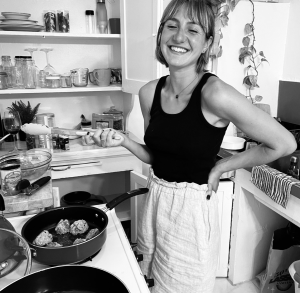 Natalie is a certified vinyasa yoga instructor and integrative nutrition health coach living in Los Angeles, CA. Interested in bridging the current medical system with the holistic health world, Natalie is pursuing a Master's in Public Health where she will focus her studies in community health, mental health, and maternal and reproductive health.
Alongside her love of yoga and mindfulness, she enjoys running, swimming, reading on the beach, and cooking meals with friends and family. Learn more about her work by visiting her website: nataliepulvino.com.
Citations:
Corrigan, L., Moran, P., McGrath, N. et al. The characteristics and effectiveness of pregnancy yoga interventions: a systematic review and meta-analysis. BMC Pregnancy Childbirth 22, 250 (2022).
https://doi.org/10.1186/s12884-022-04474-9
https://www.healthline.com/health/box-breathing#benefits